Garment Tool Documentation#
Garment Tool is Blender addon designed to simplify process of making simulation ready cloth meshes inside Blender. Clot meshes are generated from 2d Bezier curves, sewed together and then triangulated into mesh object.
For support use Gament Tool Discord channel
Garment Tool panel is located in: * 3D Viewport -> right Sidebar (N) -> Garment Tool Tab.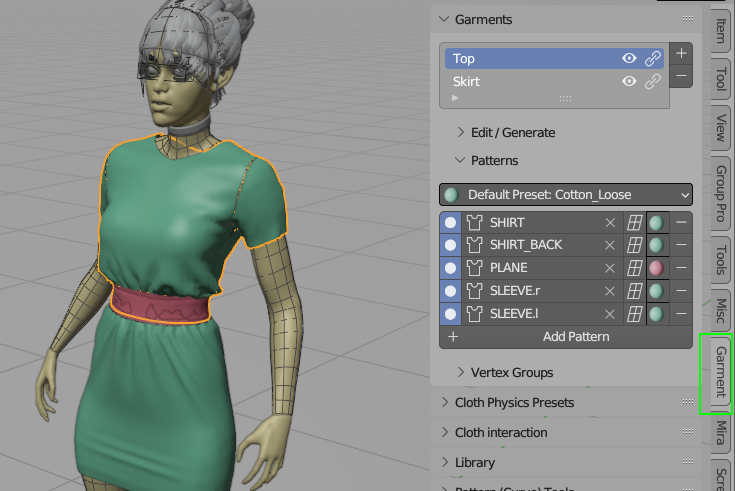 Features#
ability to define sewings between sewing patterns (2d Bezier curves), directly in 3d viewport,
ability to generate evenly triangulated mesh with adjustable resolution
tools for automatic generation vertex groups adn modifier that will speed up you workflow
helper tools for symmetrize, splitting, duplicating, flipping 2d curve sewing patterns, while preserving sewings data.
Support for cutting holes inside sewing patterns (since 1.0.6)
Pin tool for generating custom stitches (useful for buttons)
Pocket tool for generating sewings from source patterns to target pattern
Bind Tool -> easy way of projecting 3d mesh, on surface of simulated cloth (useful for making attachments, bags, pockets, etc.)
Garment library - store and load your creations
saving baked simulation into shape-key
Limitations#
No interaction with simulated cloth in Blender Support for cloth interaction added in version 1.1.0
Rarely but it happens that triangulation fails to find solution for given sewing pattern. Usually increasing triangulation resolution parameters fixes that.
There is now way to cut holes or add sewing cuts inside pattern. Support for cutting holes added since version 1.0.6
Installation#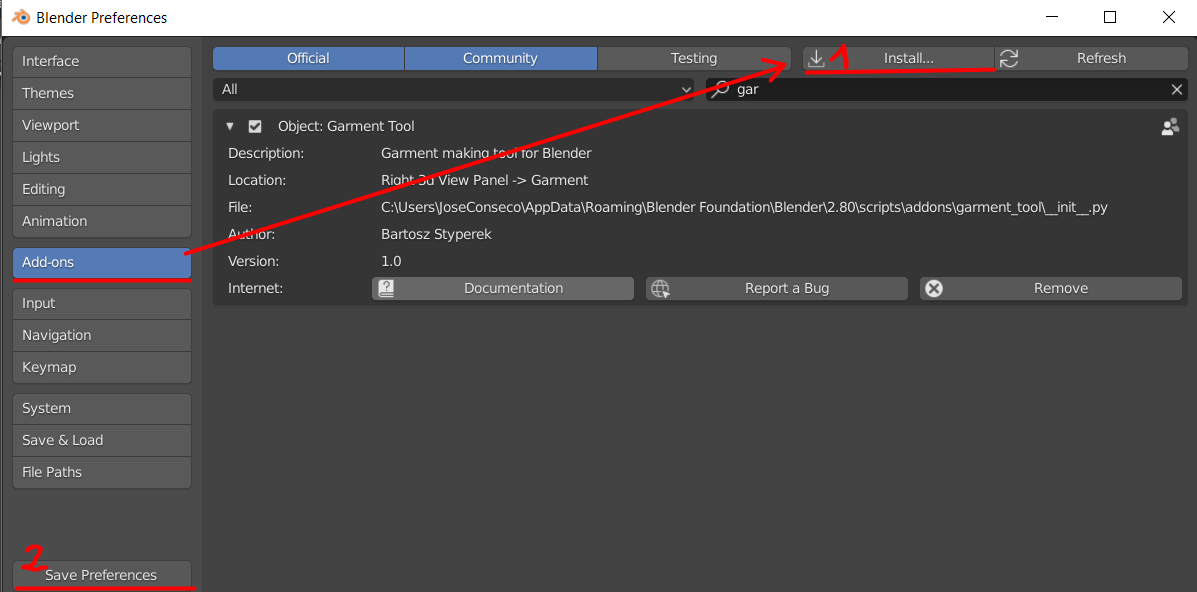 Edit → User Preferences → Add-ons tab, press 'Install' button, in bottom bar.
Remember to press 'Save Preferences', so that addon stays enabled after restarting blender.
When you are updating addon, usually it is good to remove old version by using 'Remove' button (visible on image above), before installing new version.
Updating#
Garment Tool has build in auto updater. When you use it, updater will download latest Garment Tool release and install in background. To use auto updater go to:
Edit -> Preferences -> Add-ons -> Garment Tool -> press 'Check for update'.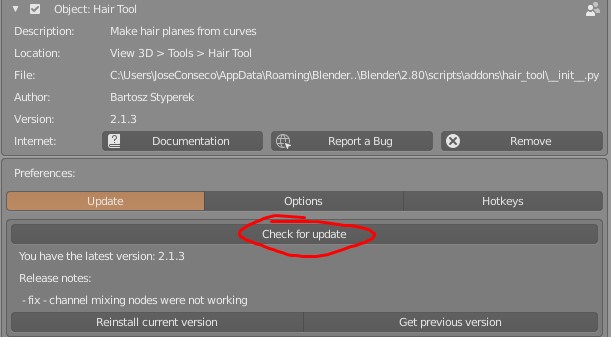 In new version is found, press 'Update addon' button, wait few seconds for download, installation and restart blender. Or you download update manually by getting new zip file from your Gumroad account. You should have received download link to zip file, with email when you purchased Garment Tool.