Hair Tool 2 (for Blender 2.93 and above)¶

Hair Tool is Blender addon for creating hair cards based on 3d curves.
This addon will help you generate hair card with uv's and much more:
generate and groom hair ribbons (based on blender particle hair)
generate hair ribbons from guide grid mesh
drawing curve hair (or particle hair) on mesh surfaces
learn and quickly block out hair from Hair Library examples
automated uv (random uv area is assigned for each spline)
uv texture preview directly on curve ribbons
easy and convenient switching back and forth between curve ribbons and mesh, while preserving uv's
adjust ribbons looks (tapering radius, randomizing tilt, editing profile)
convert Curves to Particle Hair, Particle Hair to curve ribbons, Curve ribbons to mesh ribbons and so on.
Curve Resampling - increase, decrease curve/ribbon points count
Generating vertex color/weights gradients for mesh ribbons.
And More!
Video Tutorials¶
Other online Tutorials¶
Addon location¶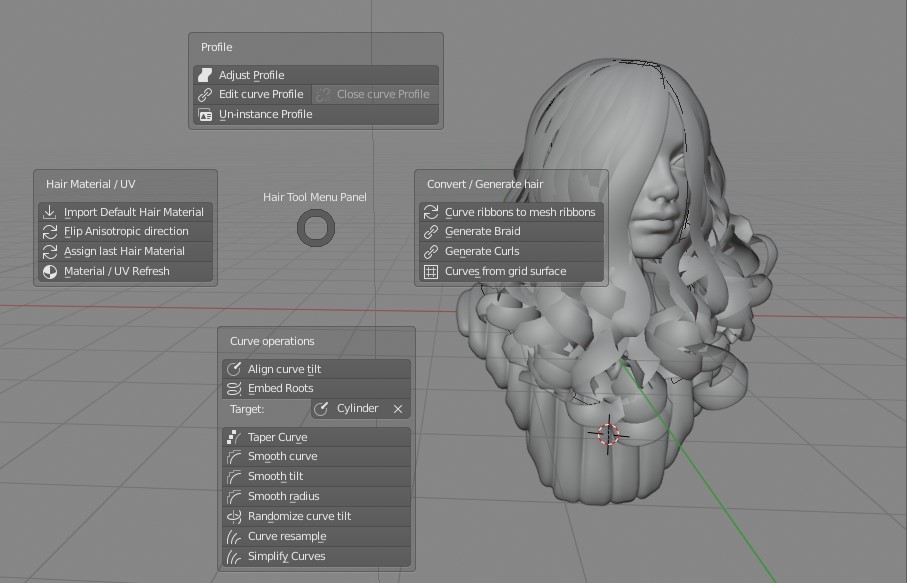 It is best to use addon from Ctrl+Shift+H Pie Menu (hotkey can be changed in preferences). There is also Hair Tool panel - located in right Sidebar(N): "Hair Tool" tab.
Installation¶
To install Hair Tool you need zip file from your Gumroad account. Then, inside Blender, go to:
Edit -> Preferences -> Add-ons, and click 'Install' button.
And navigate to hair_tool_2.xyz.zip file location.

For Blender 2.8 use hair_tool_2.x zip files!
Updating¶
Hair Tool has build-in auto updater which will download and install the latest add-on release. To use auto updater go to:
Edit -> Preferences -> Add-ons -> Hair Tool -> press Check for update.
In new version is found, press Update addon button, wait few seconds and restart blender.
Note: To avoid constant email notification update spam, I publish smaller updates/bugfixes without version number bump. Only after implementing enough of new features/bugfixes publish official new version with increased release number. If you want go grab 'smaller' bugfixes, but addon shows, that you already have the latest version, use Reinstall Current Version. It will download these smaller incremental bugfixes.
You can also download updates manually by getting new zip file from your Gumroad account. You should have received download link to zip file, with email when you purchased Hair Tool.
Note: It seems auto-updater does not work on Mac OS. As a Mac user you will have to download update manually from Gumroad account. Now it should work on Mac too.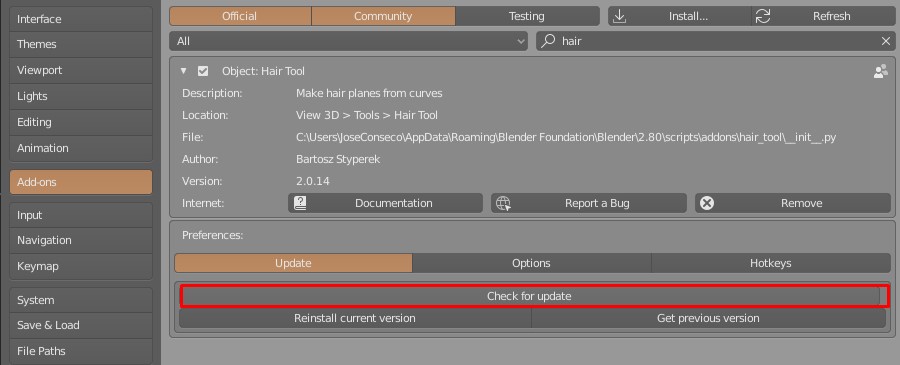 Checking for new version of Hair Tool from Preferences panel
Support¶

For support or bug reports use this discord server.